Welcome to nursery "de Hessenhof"


We hardly dare to say it, but our biologic perennial plant nursery De Hessenhof, situated on a beautiful spot on the Veluwe, is unique. Maybe that unique that we hardly can handle the number of visitors. What to do with this? Do we have to grow more? No that is something we surely do not want to do.
On a two hectare we work with 7-8 people in high season. This is a pretty, human scale and we manage to grow around 3000 different perennials this way. Maybe the largest assortment of western Europa. But it seems not enough. The interest in biologicaly grown plants in a large assortment is ever growing. There should be more of this kind of nurseries. Lately these only seem to disappear. This means that we have to disappoint you ever more. It means that it will happen more often that the plants you have on your wishlist will be sold out. And we will feel guilty not to pay as much attention to each customer as we would like. We apolegize for this!
But it is a beautiful profession and our way of life. Despite the many visitors we welcome you on our nursery!

Miranda and Hans Kramer, Jeroen, Gerrit and Jonny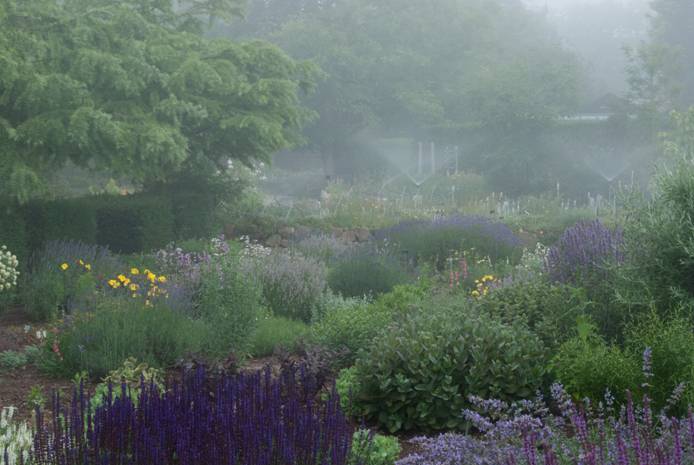 Uncompareable large assortment of plants.
On the salesbeds there are alway minimal 2500 different plants and this assortment changes weekly, because we can grow from a motherbed inventory of more then 6000 different plants.
| | |
| --- | --- |
| All plants are arranged according to growing conditions. | In late summer there is a large offer of plants. |

Unique because of own multiplication and growing on.
You will not find purchased plants with us! Everything (except some patented plants) is grown by ourself, from the smallest cuttings and seeds to a firm saleable plant. This garantees diseasefree and true to name plants.
| | |
| --- | --- |
| Miranda making cuttings in the cold greenhouse. | Salvia 'Caradonna' is rooting beautifully. |

Special because of the biological way of growing.
You will find with us only biological (with SKAL certificate) grown plants. So no fast raised plants that will struggle to survive, but healthy plants that can stand something.
| | |
| --- | --- |
| | |
| Compost from the nursery is steamed to be used for potting. | The making of so called compost-thea. |

Unique because the growing in compost from leafmould.
In Holland there are hardly any nurseries that have banned peat as growing medium, this in contrary to the UK. The use of peat is harmful to natural habitats and the peat itself does not have any nutrients. The leafmould that we make ourself does have natural nutrients and takes care for a good, slow growing of the plants, resulting in strong plants.
| | |
| --- | --- |
| The so called 'black gold', the leafmould. | Potting in leafmould medium is easy using a potting machine. |

Finally, a nice place to visit.
Visitors are always thrilled about the nice and intimate place where you can wander around for hours. Hidden behind beech hedges lies a paradise for the garden lover. And after a while you can visit our nursery barn to enjoy a cup of coffee and there is lecture to be found of different garden periodicals from home and abroad.
| | |
| --- | --- |
| | |
| Hidden behind the hedge youcan find an oasis of plants. | An overvieuw of the nursery beds and the barn. |
| | |
| Some sixthousand plant varieties on the motherbeds! | A great variety of plants. |